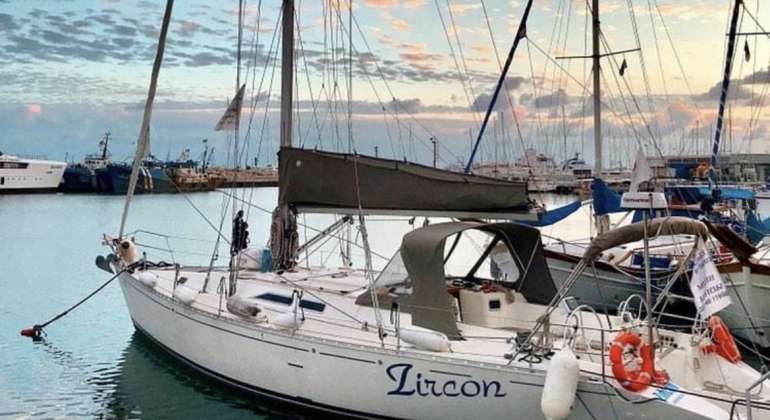 Sailing Yacht Zircon
ZIRCON is a 50 feet sailing yacht refurnished in 2018 for RELAX CRUISES.
It is a perfect sailing yacht for small groups and families up to 15 persons licenced for coastal and for up to 4 persons for off-shore.
Its big swimming platform, the overall depth and all deck arrangements are ideal for easy and luxury sailing.
The big saloon can accommodate 8 persons and its kitchen / galley is ideal for overnight accommodation up to 6 guests.
High sailing performance with its tall mast and big sails.
Anchoring with its special wing keel on shallow waters makes access to the beach or destination easy.
See the location of the vessel on the map
Specifications:
Cabins – 3
WC / Shower 3/3 plus cockpit shower
Hot Water: Yes
Steering: Wheel x 2
Diesel = 300 litres
Fresh Water = 400 litres
Holding Tank
Available on request:
Transfer
Various menus – Catering delivery
Professional Chef on Board
Diving with Master Instructor and Introduction to Dive
Fishing: Rod or Octopus
SUP
SAILING LESSONS – Short Course Introduction to Sailing
SIZE
CAPACITY
FULL DAY (6 HOURS)
HALF DAY (4 HOURS)
HALF DAY (3 HOURS)
SUNSET (2 HOURS)
50 ft
15 PAX
€ 800
€ 650
€ 500
€ 380
Fishing available on request / Sailing lessons available on request
Contact us!
We are here to help you organize your private or scheduled cruise and make sure that you will enjoy your trip.
Contact us by just giving us some information and let us take over all the hard work from paper work till the final touch. We will come back to you as soon as possible!
Overview
Specification
Equipment
Accommodation
Location:
Old Port Limassol