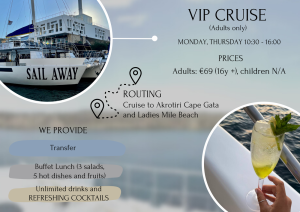 VIP Day Cruises Includes:
– Transfer
– Buffet lunch (3 salads, 5 hot dishes and fruits)
– Coffee-tea
– Unlimited local / imported drinks (incl. Refreshing Cocktails)
Max 50 passengers on Sail Away Catamaran
Activities:
– Swimming (2 stops)
– Snorkelling masks
– Canoeing
– Sunbathing
– Wi-Fi
We cruise from Limassol Old  Port towards Akrotiri Cape Gata accessible only by sea to admire the remarkable scenery where we make 1st stop for swimming. Then we cruise towards Ladies Mile Beach where usually water is calm for 2nd stop for swimming and lunch is served on board.
(The routing always depends on weather condition / wind direction. In case of East wind (which is rare) we will sail towards St Raphael hotel).
TERMS AND CONDITIONS
Relax Cruises reserves the right to cancel or reroute its cruises due to weather conditions.
In case of cancellation from the customer, within 12 hrs prior to departure a 20% fee is charged. Full price charge applies for no-show without notice.
Clients must be ready 10 minutes before their scheduled pick up time.
Personal belongings such as jewellery, cameras etc are customer's responsibility.
Contact us!
We are here to help you organize your private or scheduled cruise and make sure that you will enjoy your trip.
Contact us by just giving us some information and let us take over all the hard work from paper work till the final touch. We will come back to you as soon as possible!